Win a car and other super prizes in 1xSanta promotion from 1xBet
December 23, 2021 · 8 min read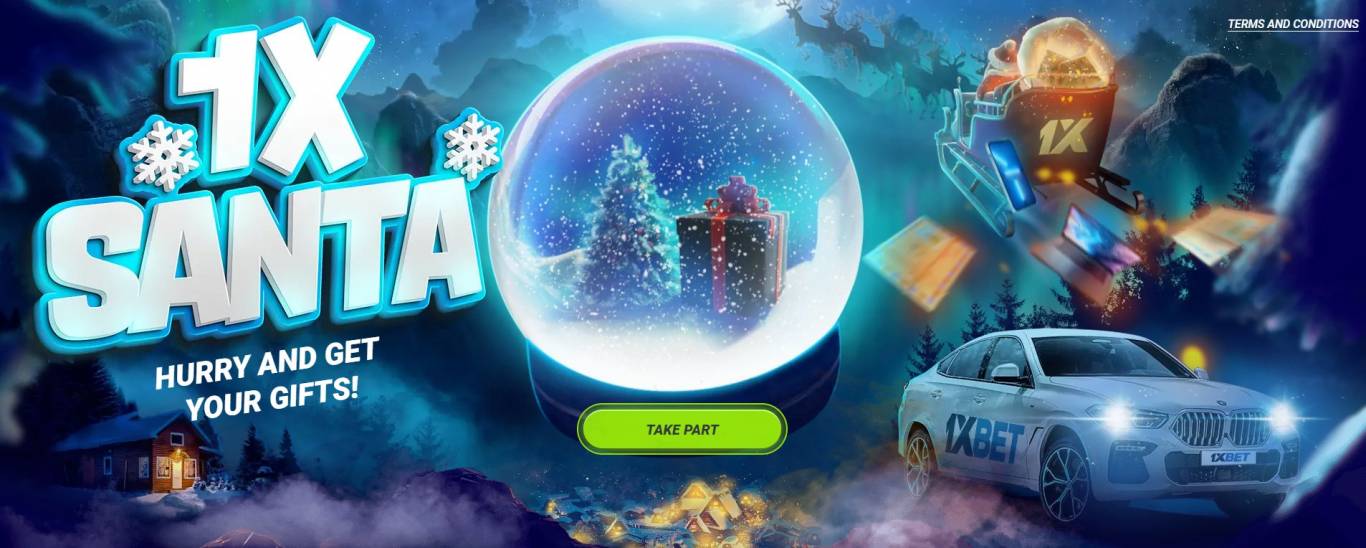 Reliable betting company 1xBet is used to pamper its customers. And, of course, it could not leave without attention the New Year's holidays. During this period, the office holds very favorable promotions. It is worth to follow the updates and news, so as not to miss a single opportunity to earn money. One of the best promotions on the market is 1xSanta. This is a lucrative drawing for valuable prizes, the main one is a prestigious BMW car. Other gifts are no less excellent: modern gadgets, equipment and a huge number of promo points. With the latter, it is not difficult to buy different rewards in the "Promo Code Showcase". 
Name
Date of event
Prize fund
1xSanta
17.12.2021

—

10.01.2022
Drawing of valuable prizes and bonus points
The main task of each participant is to make the maximum number of bets on any sporting events with odds above 1.6. This will shake the special New Year's ball. It can fall out a variety of gifts, such as:
a $10 freebet;

from 100 to 5,000 promotional points;

from 5 to 50 tickets to participate in the drawing of profitable superprizes;

a piece of a car puzzle.
All rewards are credited to the bonus balance immediately, there is no need to wager them. The conditions are great, because only at this stage you can get a lot of prizes. The next two drawings will determine the owners of modern gadgets and equipment. In the final one – a car and many other gifts. 
The promotion started on December 17, 2021 and will end on January 10 next year. There isn't much time, but it's enough to win any of the rewards. The main thing is to bet as actively as possible to increase your chances of winning. Everyone who opens the picture of the car from the puzzles, will be able to take part in the final drawing of prizes. Any bettor can meet these conditions.
What winnings await the participants of the 1xBet promotion
It is easy to take part in the promotion. To do it, you need to create an account on the bookmaker's website and make a deposit. You don't have to do any lengthy verifications or perform a variety of tasks. The office has simplified the requirements as much as possible. Therefore, even new customers have chances to win great rewards. 
There will be two drawings in total: the main one and the final one. In the second one, only those who have completely collected the puzzle will take part. In the main one, winners will be determined among all promotional ticket holders. The following gifts are available:
| | |
| --- | --- |
| Places | Prizes |
| 1 | Apple MacBook Pro 16" (20 winners) |
| 2 | Apple iPhone 13 Pro Max (30) |
| 3 | Samsung Galaxy Z Fold 3 (30) |
| 4 | Apple iPhone 13 Pro (30) |
| 5 | Samsung Galaxy S21 Ultra (30) |
| 6 | Microsoft Xbox X 1TB (50) |
| 7 | PlayStation 5 (50) |
| 8 | Nintendo Switch (50) |
| 9 | Apple AirPods PRO (100) |
| 10 | Samsung Galaxy Buds 2 (100) |
As you can see, there will be a lot of winners, and the 1xSanta promotion is really worthy of attention. Therefore, you should not miss out on an excellent opportunity to win awesome prizes. However, all of the above rewards are not all. Additionally, you can get quite a few bonus points, namely:
5000 points for 100 winners;

2000 and 1,000 for 500;

500 and 200 for 1000;

100 — 5000;

50 — 10000.
These can be exchanged in the "Promo Code Showcase". In this section you can buy special rewards for risk-free and more profitable bets with better conditions. The promotion is short-lived. You need to start fulfilling the requirements now to earn more.
Final drawing of prizes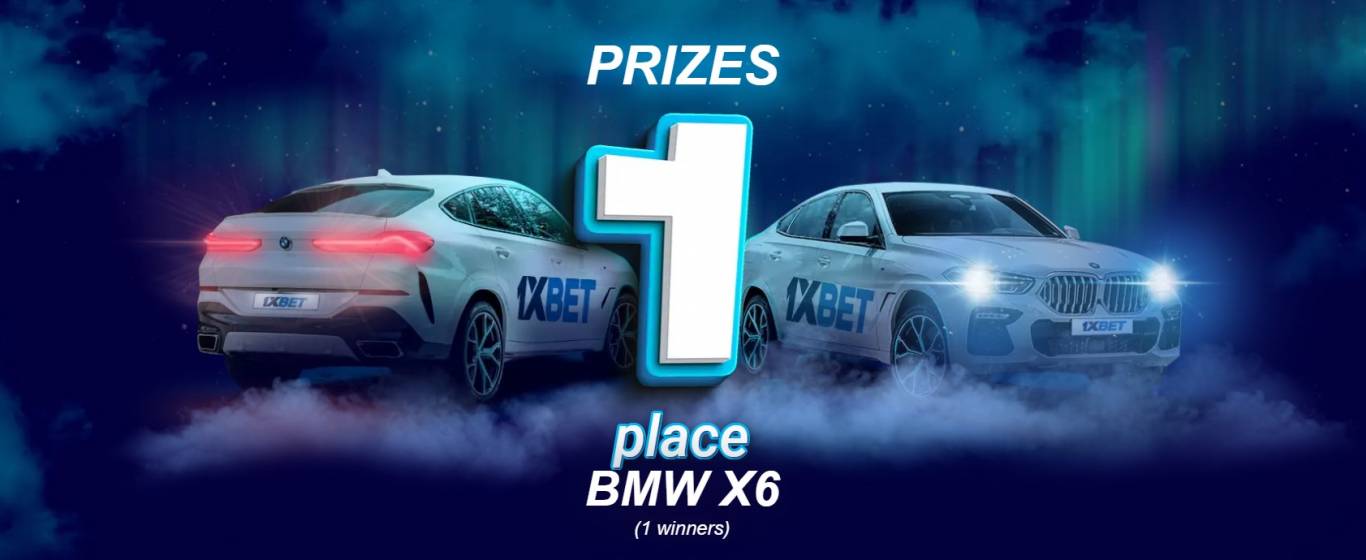 To take part in the final prize draw, you must collect all fragments of the car puzzle. To do so, wagers of $5 or more must be placed. Any sports events with odds 1.6 and above can be chosen for betting. For each bet that meets the conditions, the company gives a chance to shake the New Year's ball. Different gifts or puzzle pieces fall out of it. Prizes in the final drawing are:
| | |
| --- | --- |
| Places | Prizes |
| 1 | BMW X6 (1 winner) |
| 2 | Apple MacBook Pro 13" (30) |
| 3 | Apple iPhone 13 Pro Max (30) |
| 4 | Apple iPad Pro 12'9 (30) |
| 5 | Apple iPhone 13 Pro (30) |
| 6 | Samsung Galaxy S21 Ultra (50) |
| 7 | Samsung Galaxy Tab S7+ (50) |
| 8 | Samsung Galaxy Z Flip (50) |
| 9 | Apple Watch 7 45 mm (100) |
| 10 | Samsung Galaxy Watch 4 Classic (100) |
Also, the bookmaker company draws a similar amount of promotional points, which is provided for the main stage. But, so that no one forgets how generous the gifts are, it is necessary to repeat the information:
 5000 points for 100 winners;

2000 and 1,000 for 500;

500 and 200 for 1000;

100 — 5000;

50 — 10000.
There is a huge prize pool, which is sure to find winners and lucky owners of great rewards.
Terms and conditions of participation in the drawing from 1xBet
To participate in the promotion, you need to register or log in, refill your balance and go to a special raffle page. Click on "Participate". Additional conditions: a fully completed application form in your personal cabinet, a verified phone number and an email address. 
After clicking on the "Participate" button, you need to bet $5 or more by selecting any sporting event with odds of 1.6 or higher. For each such prediction, the company gives a chance to shake the New Year's Ball. Thanks to this, you can win free bets, bonus points, promo tickets and puzzle pieces. There won't be any losers for sure, because this is one of the best promotions from a proven betting company!
---
Best Sports Betting Sites in Africa
Check all the information about the top bookmakers on our website. Here is our pick with the best bonuses and promo codes.
Learn the information about the best betting sites, which work worldwide and in Africa. Here you will find the reliable and time-tested online bookmakers offering to bet on different kinds of sports, e-sport, horse betting, and other events.
Click for more
---