1xBet cyber bonuses' calendar – generous rewards every day
January 6, 2023 · 6 min read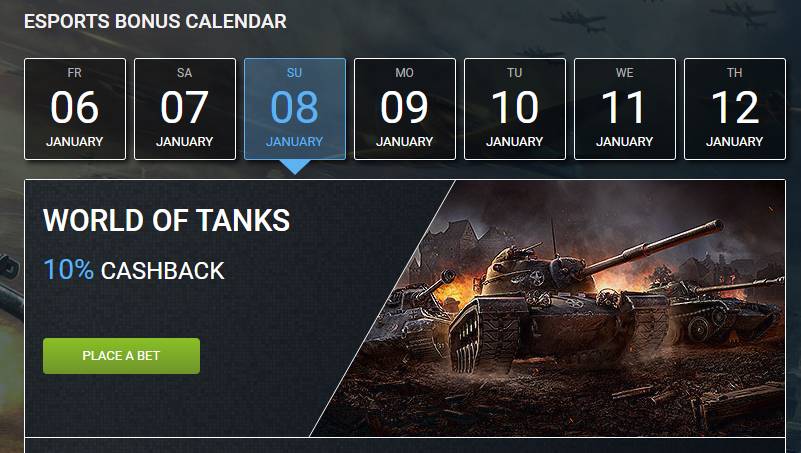 Do you love cybersports and want to earn from competitions held around the world? A reliable bookmaker has created favorable conditions for this. Register at 1xBet and not only place bets on various matches, but also regularly receive additional rewards. 
There is a cyber bonus calendar for players here. It contains the best betting offers for the coming days. The calendar is updated regularly. The company prepares profitable rewards for its customers every day. First of all, it is an opportunity to get cashbacks.
| | | |
| --- | --- | --- |
| Promotion Date | Game | Size of Cashback |
| 05.01.2023 | Cyber martial arts | 20 % |
| 06.01.2023 | Cyber handball | 30 % |
| 07.01.2023 | Cyber tennis | 30 % |
| 08.01.2023 | World of Tanks | 10 % |
| 09.01.2023 | League of Legends | 10 % |
| 10.01.2023 | Cyber wrestling | 10 % |
The company offers a large number of interesting rewards. Now every registered client knows on what disciplines the bets can be the most profitable.
As for the calendar of cyber bonuses, this is a special page on the website of the office, where the most relevant offers are collected. Study them carefully to earn not only through successful predictions, but also because of the bookmaker's generosity.
Why is it beneficial to keep track of proposals from the cyber bonus calendar?
Cashback is most often given to users as rewards. In the future, players can invest the extra money in new predictions. This is very beneficial because they gain the opportunity to play even more often. 
The calendar is a place where users can find great deals for every day. Place bets on the disciplines that the bookmaker has chosen, and the cashback will not make you wait long. 
Thanks to the calendar, betting on cyber sports will be even more profitable. In addition, since it is scheduled for several days in advance, you can choose interesting events and understand in advance what exactly you are going to bet on. Therefore, registered customers themselves should be interested in keeping track of the bookmaker's offers.
What bonuses has the bookmaker 1xBet prepared this week?
This week the bookmaker has prepared a number of lucrative offers. They are available to all users. All you need to do is register and open the cyber calendar. After that, all the offers will be in front of you as if in the palm of your hand. So, players can enjoy:
Cashback of 20% on cyber martial arts. Choose interesting matches, bet on the most popular options of the outcome. The bookmaker will return a part of the funds received to an additional account (it is automatically created for each new client).

Cashback of 30% on cyber handball. This discipline is also very popular in virtual format. Bet on the main variants of the result of the match (handicap, winner, total), and the bookmaker will return part of the money.

Cashback of 30% on cyber tennis. It is arranged practically the same way as the usual one, only the match consists of one game. Predict how it will turn out, and the company will surely return a part of funds. It is easy to use the cashback in the future to make new bets.

Cashback of 10% on World of Tanks. It is a beneficial offer for fans of computer games. Place a bet on popular tournaments and the company will return 10%. It's a good opportunity to make watching your favorite competitions even more exciting.

Cashback of 10% on League of Legends. Do you like this game? Then bet on it 9.01 and get a part of funds to your additional account. There will always be many events in the company on which predictions are accepted.

Cashback of 10% on cyber wrestling. Wrestling in a virtual format is attracting the attention of more and more users. Predict the results of these or those contests, and additional rewards will not be long in coming.
In the coming days, registered customers will get a lot of interesting offers. Take advantage of them to get cashback and make more bets.
Conditions of participation in special 1xBet program
The Cyber bonus calendar is accessible to every client of the bookmaker's office. You should definitely take advantage of this reward to start making even more predictions and take your income to the next level.
If you do not have an account at a bookmaker's office, you should go through a simple registration procedure, and replenish your balance. Then navigate to the page, which is dedicated to the calendar of cyber bonuses. Click on the green button, and you will not only be able to make bets, but also receive cashback. The company offers from 10% to 30% daily. In the future, invest these funds in new bets, and the game at the bookmaker's office will be not just fun, but also profitable.
---
Best Sports Betting Sites in Africa
Check all the information about the top bookmakers on our website. Here is our pick with the best bonuses and promo codes.
Learn the information about the best betting sites, which work worldwide and in Africa. Here you will find the reliable and time-tested online bookmakers offering to bet on different kinds of sports, e-sport, horse betting, and other events.
Click for more
---